Validate and de-risk in 6 weeks
The vast majority of organizations fail to leverage technology effectively. The question is: Why?
Most organization's digital problems are rooted in alignment, relevance, and velocity. At Intevity, we help organizations overcome these challenges and return focus to where it matters most: their core mission.
Regardless of the focus of your challenge (program, product, data, platform, innovation), we recognize that organizations have real pain, need to move quick, and not overcommit. We get this process moving fast with our Intevity Accelerator programs.
Our 6-week Accelerators are designed to act as an organizational change catalyst by validating the problem being solved is the right one and putting an action plan together to move from Strategy to Reality.
The Accelerator model
While each accelerator is unique and designed to address the specific challenges of an organization, the process generally flows through the following stages: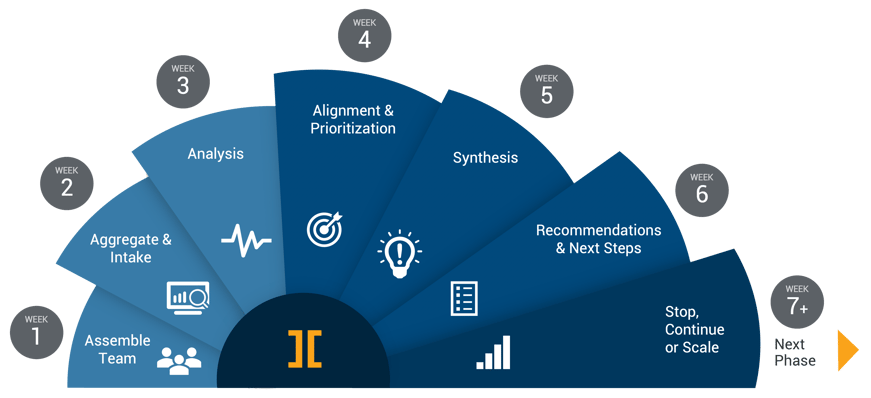 How does an accelerator work?
We deploy a small, senior team for six (6) weeks to conduct a current state assessment within your organization—identifying risks and charting a roadmap for future value creation. But we recognize that it's not enough to apply frameworks and models that have worked for others.
To make meaningful and lasting change, our teams work to truly understand an organization's business challenges, culture, and the way work gets done on a daily basis. Our Accelerator Programs are designed to be highly collaborative.
Joint working sessions, key stakeholder interviews, hands-on whiteboarding, and a vast network of subject matter experts are a few of the ways we are able to provide smart, specific, and meaningful insights fast.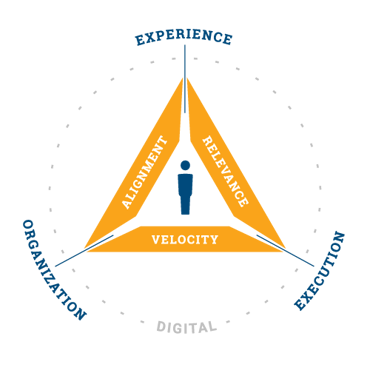 Through the lens of our Digital Triality℠ model, we address the underlying and often overlooked problems that affect alignment, relevance, and velocity of business' digital efforts. This allows us to succeed where others fail.
Alignment:

We help clients align their strategy,

processes, people, and products or services.

Relevancy:

We ensure that client's products and

services are relevant not only to their external audience

but to their employees as well.

Velocity:

We guide clients to the most viable and

efficient path from strategy to implementation.
Actionable outcomes
Two of the most common questions we hear from clients undergoing digital transformation efforts are, "How do I know if the problem I'm solving is the right one?" and "What are the right technologies to invest in?" Our Accelerator program helps recognize where you are today, envision what could be, and chart an actionable path forward.
Validating the problem being solved is a true problem and not merely a symptom of an even bigger underlying problem is typically completed by week three (3). Afterwards, effort shifts to focusing on which organizational levers can be pulled to provide a foundation and momentum around solving that problem. Examples include:
Technology priority alignment
Holistic data strategy
Development of a common language
Gaps and risk identification
Decision and prioritization frameworks
Innovation models