Design Thinking in the Human-Centric Toolkit
Innovation is the ultimate business advantage. It enables you to do more with less. In our experience, we've found that a methodology called Design Thinking helps to drive innovation. It develops empathy, transcends innate biases, and evolves to better sustainable solutions.
What is Design Thinking?
Design Thinking is a collaborative framework used by designers to solve complex problems. It puts humans and their needs at the forefront. It's solution-focused and action-oriented. In other words: it ensures that you're solving the right problems and your technology is improving the lives of those that use it––rather than frustrating them.
In Design Thinking, research is a critical ingredient at every step in the process:
Empathy - Research is used to understand users' needs, desires, and goals
Define - Research is used to synthesize a problem statement
Ideate - Research may be used to generate and validate ideas
Prototype - Research informs the prototyping
Test - Research validates that the prototype or experiment is useful -- or not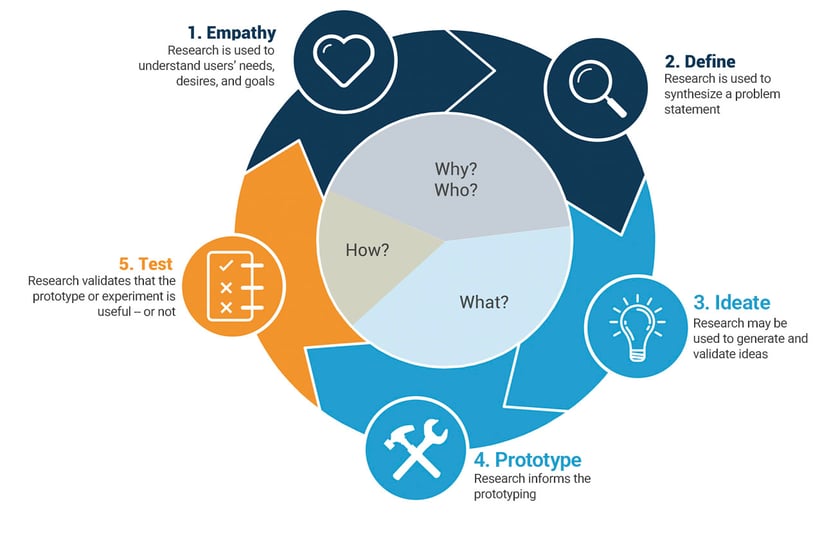 Application & Results
Case 1: Driving adoption at the U.S. Department of Labor
Rather than converting a paper form to a digital one, we used Experience Research and Design Thinking to create a new human-centric solution for managing workers' compensation claims. Putting customers first resulted in a solution that had high adoption rates and superior user satisfaction scores.
Case 2: Re-envisioning sales processes at scale
We worked with a large-scale e-commerce and cloud provider to introduce Design Thinking principles. These were shared throughout their organization and transformed their sales process to quickly build trust with customers through incremental value.
Case 3: Driving compliance in financial services with a mobile-first solution
We worked with a large financial services provider to create a mobile-first compliance solution. By applying Design Thinking principles, we enabled the company to achieve internal compliance on submissions for all of their employees on the very first try.
Experience Research Process
The research process can be summarized as an iterative three-step process:
Planning - Identify objectives and approach
Conducting - Perform the research and record findings
Synthesizing - Analyze the findings and determine next steps
Planning
The first step of planning is to identify objectives. Common objectives for research are:
Filling gaps in understanding

Creating empathy with users

Making an investment decision

Identifying opportunities for improvement

Making a design decision

Evaluating potential solutions
Conducting
After objectives have been identified, the specific research methods should be evaluated. Beyond the types of research objectives, the relevant research methods will depend upon several factors including:
How large is the pool of potential users?

How many types of users exist?

How accessible are the various stakeholder groups?

Is there concern with how users feel (attitudinal)?

Is there concern with how they actually work (behavioral)?

Is there a need to understand the why and the how (qualitative)?

Is there a need to understand how much or how often (quantitative)?
Synthesizing
Based on the answers to these questions, the available research methods can be examined. The Nielsen Norman Group has published a useful guide on matching research methods across the dimensions of:
Behavioral vs. Attitudinal

Qualitative vs. Quantitative

Context
In practice, while many organizations would like to include a significant quantitative aspect to their research, they often lack the resources necessary to do so.
Want Design Thinking for your next innovation efforts? We'd love to hear from you.
Download Intevity's Digital Assessment