"Arguably the single most important component of meaningful Digital Transformation"
The key to success is surprisingly simple. Just make the right decisions. That's it… The right decisions = growth. The right decisions = innovation and speed to market. The right decisions = empowered and highly performing teams. Easy, right?
Michael Jordan shot 49.7% from the field over his career—a reasonable level of success. Let's follow suit and start by setting a reasonable daily goal when it comes to decision-making. We'll aim to get 50% of our decisions right for the day…
The day always starts with some layups. Let's get those decisions "right" out of the gate to pump up our success rate.
6:00 am: hit snooze once, and only once, as planned
6:31 am: black socks to match black shoes
7:41 am: move lunch meeting to fit in a vendor call
8:01 am: coffee: cream, no sugar
8:07 am: click on co-worker's LinkedIn HBR article—share link
8:15 am: respond to CEO's email "should we invest in machine learning to address future market pressures?"
Wait, time to hit "pause." Machine learning decisions at 8:15 AM? Things seem to be escalating quickly…
8:19 am: coffee again: cream, no sugar
8:21 am: back to CEO email: "should we restructure teams to optimize for results and accountability??"
8:21 am: text from spouse: "what's our Disney meal plan for upcoming vacation???" (unnecessary complexity)
8:27 am: back to CEO email: "do we build vs. buy e-commerce platform????"
It is not even 8:30 and we've made 100 decisions, some little, some big. Regardless, Level 10 attention fragmentation and decision fatigue sets in—just in time for the big 8:30 am Executive Working Session: De-risking our Data Strategy and Roadmap…

This is part 1 in a series of posts focused on the decision frameworks that help leaders and organizations thrive in a digital world. Which decisions warrant more focus? Are they even addressing the right questions? How do you align stakeholders when it's time to mobilize teams around a decision? Does data consistently justify key decisions in the organization?

Step 1: Simplify - identify & focus on the meaningful decisions
What do Steve Jobs, Barack Obama, and Mark Zuckerberg have in common? They all simplify and minimize the decisions they need to make to reduce decision fatigue. Steve Jobs famously wore a black turtleneck and jeans—every day—for this very reason.
"I wear only gray or blue suits. I'm trying to pare down decisions. I don't want to make decisions about what I'm eating or wearing. Because I have too many other decisions to make."
Barack Obama
44th President of the United States
Not all decisions are equal or as easy (or hard) as choosing an outfit, so obviously you can't treat them as such. Dwight D. Eisenhower was known for simplifying decision making into a matrix (below) based on the vectors of importance and urgency. A critical nuance to his matrix is actually in his accompanying quote: "What Is Important Is Seldom Urgent and What Is Urgent Is Seldom Important." Think about that.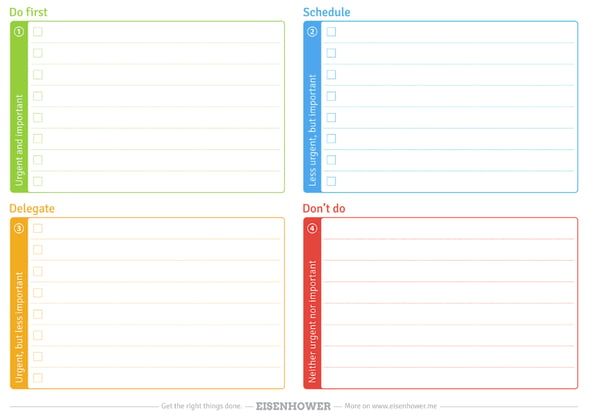 Leaders like Jeff Bezos have adopted similar methodologies, based on the concepts of consequence and reversibility. Simplifying the decision-making process allows organizational leaders to delegate more and move quickly while pausing only to gain clarity at key inflection points (i.e. when decisions are important or irreversible).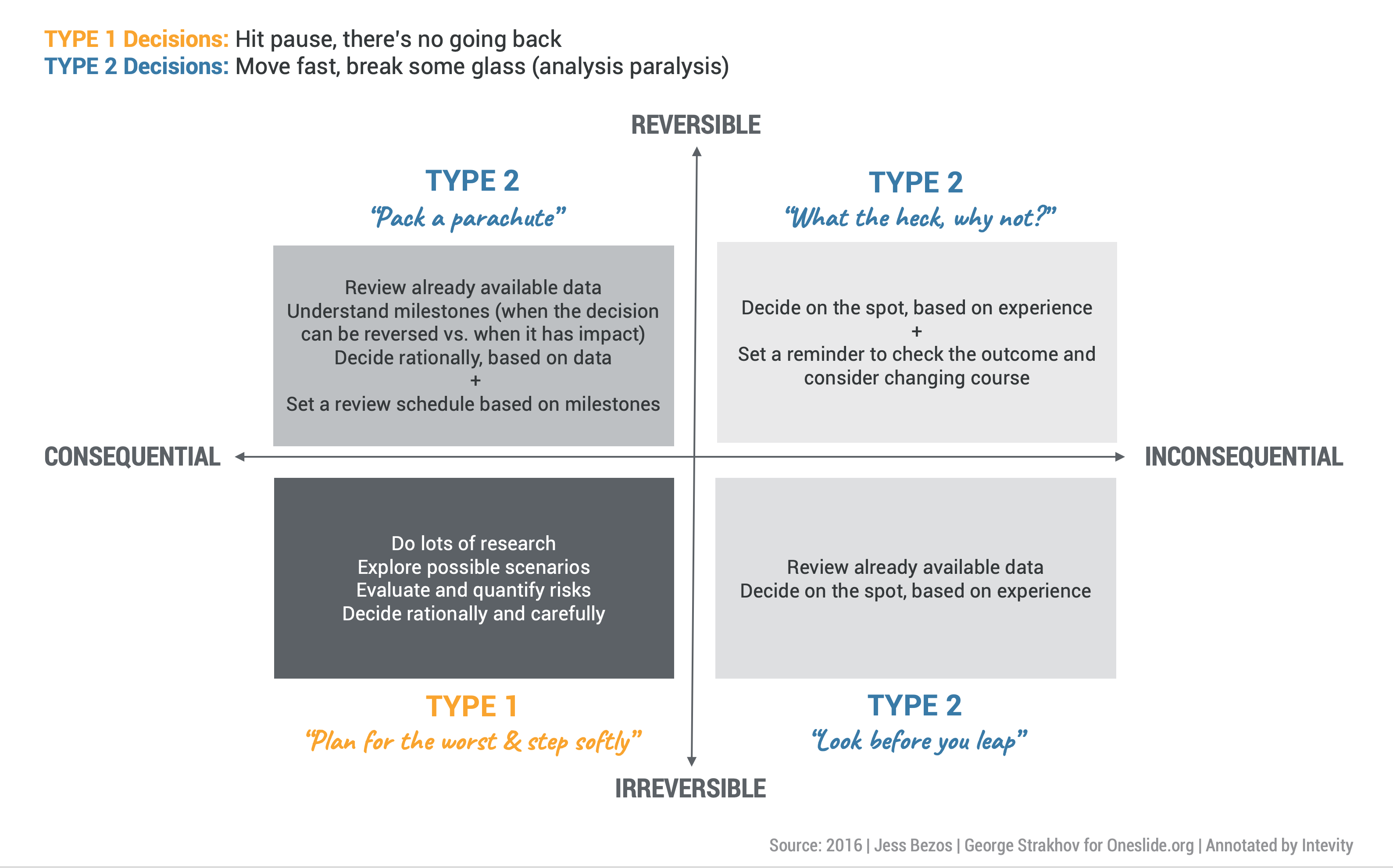 "You have to somehow make high-quality, high-velocity decisions… …Speed matters in business – plus a high-velocity decision-making environment is more fun too."
Jeff Bezos
Founder and CEO of Amazon
With the frameworks above, we have some solid guidelines to manage the pure volume, complexity, and variability of decisions that leaders in a modern digital organization face daily. The problem? So far, we've assumed all the decisions made over the course of a day are made in a vacuum; what happens when stakeholder alignment is needed to move forward?
Part 2 of this series will focus on putting a foundational structure to align business units and empower teams to do their best work.